If you are not already aware, we  bring to your attention an
excellent feature in the Manchester Evening News in regards to the
fantastic work done by AMAS members for this years Tatton Show.
 GARDENING IS BLOOMING HARD WORK BUT I LOVE IT.
Barbara Hammond doesn't let the vandals, a slipped disc, 10 children or the 'great' British weather deter her from gardening on her beloved allotment. Now she's showing off the fruits of her labours at this year's RHS Flower Show, writes David Henry.
For a women who spends of her life on an allotment, Barbara Hammond seems surprisingly unenthusiastic about gardening "You get a lot of Heartbreak," she says. "Its soul destroying at time. You get disheartened by the weather, the slugs and the Vandals.
Her allotment in Bradford, East Manchester has been repeatedly targeted by thugs. "They get in all the time. They come in and trash the place. It's just something else that you have to live with."
Others may be put off by such setbacks but Barbara has fighting sprit. "Whey do I carry on? Well, if you fall over you get up and walk again, don't you? You get up and carry on walking and you watch where you but your feet most time. That's gardening."
Barbara, who at 69, describes herself as an "old lady", hat the energy of a woman half her age. She's as tough as the old boots she wears to dig her plot.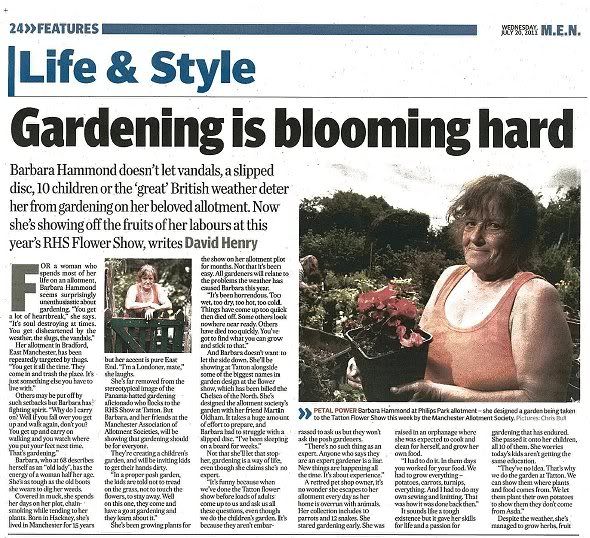 Covered in muck, she spends her days on her plot, chain-smoking while tending to her plants. Born in Hackney, she's lived in Manchester for 15 years but her accent is pure East End, "I'm a Londoner, mate," She Laughs.
She far removed for the stereotypical image of the Panama- hated gardening aficionado who flocks to the RHS Show at Tatton. But Barbara and her friends at the Manchester Associates of Allotment Societies, will be show that gardening should be for everyone.
"In a proper posh garden, the kids are told not to tread on the grass, not to touch the flowers, to stay away. "Well on this one, they come and have a go at gardening and they learn about it."
She been growing plants for the show on her allotment plot for months. Not that it's been easy. All gardeners will relate to the problems the weather has caused Barbara this year.
"It's been horrendous. Too wet, too dry, too hot, too cold. Things have come up too quickly and died off. Some other look nowhere near ready. Other have died too quickly. You've got to find what you can grow and stick to that. "
And Barbara doesn't want to let the side down. She'll be showing at Tatton alongside some of the biggest names in garden design at the flower show, which has bee billed the Chelsea of the North. She's designed the allotment society's garden with her friend Martin Oldham. It takes a huge amount of effort to prepare, and Barbara has struggled with a slipped disc. "I've been sleeping on a board for weeks."
Not that she'll let that stop her, gardening is a way of life even though she claims she's no expert.
"It's funny because when we've done the Tatton flower show before loads of adults come up to us and ask us all these questions, even though we do the children's garden. It's because they aren't embarrassed to ask us but the won't ask the posh gardeners.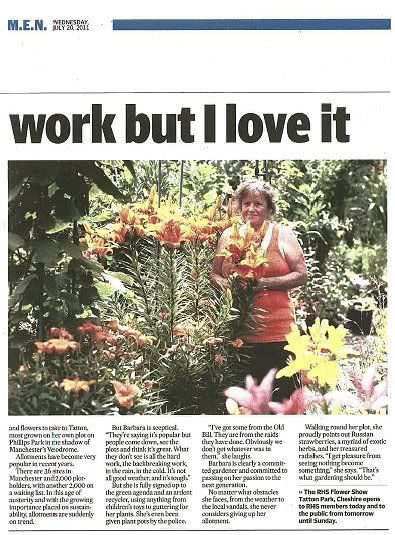 "There's no such thin as am expert. Anyone who says they are an expert gardener is a lair. Now things are happening all the time. It's about experience."
A retired pet show owner, it's no wonder she escapes to her allotment every day as her home is overrun with animals.
Her collection includes 10 parrots and 12 snakes. She started gardening early. She was raised in an orphanage where she was expected to cook and clean for herself, and grow her own food.
"I had to do it. In them days you worked for your food. We had to grow everything – potatoes, carrots/ turnips, everything. And I had to do my own sowing and ironing. That was how it was back then."
It sounds like a tough existence but it gave her skills for life and passion for gardening that has endured.
She passes it onto her children, all 10 of them. She worries today's kids are getting the same education.
They have no idea. That's why we do the garden at Tatton. We can show the, where plants and food comes from. We let them plant their own potatoes to show them they don't come from Asda."
Despite the weather, she's managed to grow herbs, fruit and flowers to take to Tatton, most grown on her own plot on Philips Park in the shadow of Manchester's Velodrome.
Allotments have become very popular in recent years.
There are 36 sites across in Manchester and 2,000 plotholders, with another 2,000 on a waiting list. In ages of austerity and with the growing importance placed on sustainability, allotments are suddenly on trend.
Barbara is sceptical. "They're saying it's popular but people come down, see the plots and think it's great. What they don't see is all the hard work, the heartbreaking work, in the rain and cold. It's not all goo weather, and it's tough."
But she is fully signed up to the green agenda and an ardent recycler, using anything from children's toys to guttering for her plants. She's even been given plant pots by the police.
"I've got some from the Old Bill. They are from the raids they have done. Obviously, we don't get whatever was in them." She laughs.
Barbara is clearly committed gardener and committed to passing on her passion to the next generation.
No matter what obstacles she faces, from the weather to the local vandals, she never considers giving up her allotment.
Walking around her plot, she proudly points out Russian strawberries, a myriad of exotic herbs and her treasured radishes. "I get pleasure from seeing nothing become something", she says, "That's what gardening should be."